Visualizing Wonderland: The Enduring Influence of Artists in Alice's Adventures
Visualizing Wonderland: The Enduring Influence of Artists in Alice's Adventures
Sigy George
In 1972, John Davis made an insightful observation regarding the extensive history of artists contributing their visual interpretations to Lewis Carroll's iconic works, "Alice's Adventures in Wonderland" and "Through the Looking-Glass and What Alice Found There." These literary masterpieces were first published in 1865 and 1871, respectively, and since their inception, they have been graced with the artistic touch of well over a hundred talented individuals, making them stand out as perhaps the most extensively illustrated children's books in literary history. The rich tapestry of artistic expression within these books is a testament to their enduring allure and the depth of their narrative world.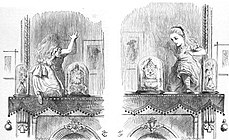 Image: https://upload.wikimedia.org/wikipedia/commons/thumb/9/96/Aliceroom3.jpg/229px-Aliceroom3.jpg
—Carroll's work stands as a testament to the enduring and multifaceted relationship between words and images in literature—
The very first artist to delve into Carroll's fantastical landscapes was the renowned John Tenniel. His illustrations set the stage for a tradition that continued with successive artists such as Arthur Rackham, Marie Laurençin, Peter Blake, and Barry Moser. This illustrious lineage of illustrators not only enhances our appreciation of Carroll's stories but also underscores the profound emphasis placed on imagery within the broader literary context. These visual interpretations bring to life the whimsical characters, bizarre settings, and surreal events that Alice encounters, deepening the reader's immersion in the fantastical universe.
This pronounced focus on imagery is inextricably tied to the themes and philosophies that manifest within the narratives themselves. "Alice's Adventures in Wonderland" commences with a bored Alice sitting idly by the riverbank, gazing at her sister engrossed in a book. Alice's discontentment arises from her realization that the book contains no images or dialogues. She aptly questions the utility of a book that lacks these essential components. Her remark touches upon the fundamental nature of human communication, suggesting that it relies on multiple modes, and an over reliance on a singular mode, such as written text, can diminish a work's potential influence. In essence, the absence of imagery detracts from the richness of communication, leaving it incomplete.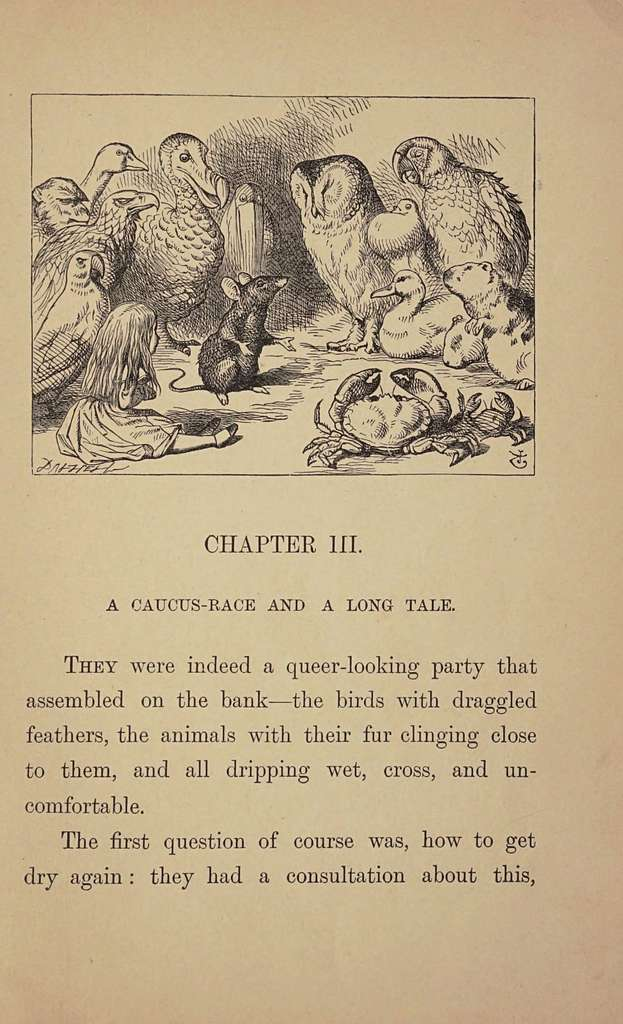 Image: https://cdn4.picryl.com/photo/1904/01/01/alices-adventures-in-wonderland-5850a5-1024.jpg
The narrative unfolds to illustrate this point further, as seen during Alice's participation in the Caucus-race and her encounter with the Gryphon. In the Caucus-race, the Mouse attempts to assert his authority through a dry and scholarly oral recitation of written prose. However, his delivery lacks the spark of life and fails to engage or motivate his audience. In stark contrast, the Dodo introduces a non-verbal solution by illustrating how the Caucus-race should be conducted, using a simple circle drawn in the dirt. This visual representation, devoid of fixed meaning or verbal instructions, prompts the creatures to take action, effectively achieving the goal of drying them off. This serves as a poignant demonstration that imagery possesses the power to act as a catalyst for action, while scholarly discourse or the mere recitation of written history remains passive and fails to inspire understanding or action.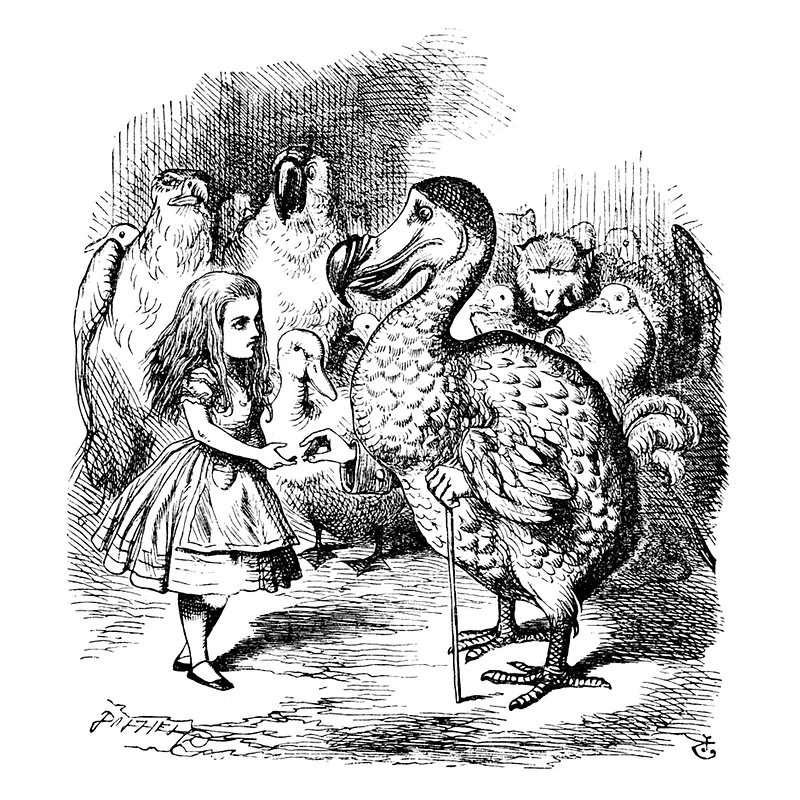 Image: https://images.rawpixel.com/image_800/cHJpdmF0ZS9zdGF0aWMvZmlsZXMvd2Vic2l0ZS8yMDIzLTA2L3drNjI5NjQ1LWltYWdlLmpwZw.jpg
After the race, the Dodo briefly assumes a position of leadership by declaring everyone a winner and even coaxing Alice into surrendering her "box of comfits." However, his reign is short-lived as the crowd's attention soon shifts to the Mouse. They seek a combination of images and words for a more immersive and engaging experience. The Mouse, unfortunately, offers another narrative devoid of imagery, perceived as dull. During his narration, Alice's fascination with the typography forming the shape of the meandering "tail" leads her to neglect the Mouse's words. This incident reveals an inherent human preference for imagery and concrete objects over abstract linguistic abstractions.
Carroll's final and definitive demonstration of the synergistic relationship between words and images in the creation of textual power occurs when the Queen introduces Alice to the Gryphon. Rather than providing a traditional description, Carroll, as the omniscient narrator, instructs the reader to consult the accompanying illustration for a clear understanding of the Gryphon. This interjection is a deliberate emphasis on the vital role of imagery within the narrative, ensuring that future editions of the book will invariably feature illustrations, thus preserving the profound connection between words and images.
In summary, Lewis Carroll's works serve as a compelling testament to the intrinsic value of images as a fundamental component of communication and storytelling. These artistic interpretations not only complement words but also elevate the narrative, enabling readers to step into a world where the boundaries between reality and imagination blur. This union of words and images weaves a powerful narrative tapestry that continues to captivate audiences and instill a profound appreciation for the art of storytelling. Carroll's work, in its entirety, stands as a testament to the enduring and multifaceted relationship between words and images in literature.
References
Carroll, Lewis. Alice's Adventures in Wonderland. New York: Random House, 1965. Print.
Davis, John. Introduction. The Illustrators of Alice in Wonderland and Through the Looking Glass.
Ed. Graham Ovenden. New York: St. Martin's Press, 1972. 5–18. Print.
Jones, Jo Elwyn, and J. Francis Gladstone. "Illustrators of Alice." The Alice Companion: A Guide to Lewis Carroll's Alice Books. New York: New York University, 1998. 125–30. Print.
Stoffel, Stephanie L. The Art of Alice in Wonderland. Smithmark Publishers.1988. Print
Cite this article in APA as: George, S. Visualizing wonderland: The enduring influence of artists in Alice's adventures. (2023, November 13). Information Matters, Vol. 3, Issue 11. https://informationmatters.org/2023/11/visualizing-wonderland-the-enduring-influence-of-artists-in-alices-adventures/