The Colors of Disinformation
The Colors of Disinformation
Nicole A. Cooke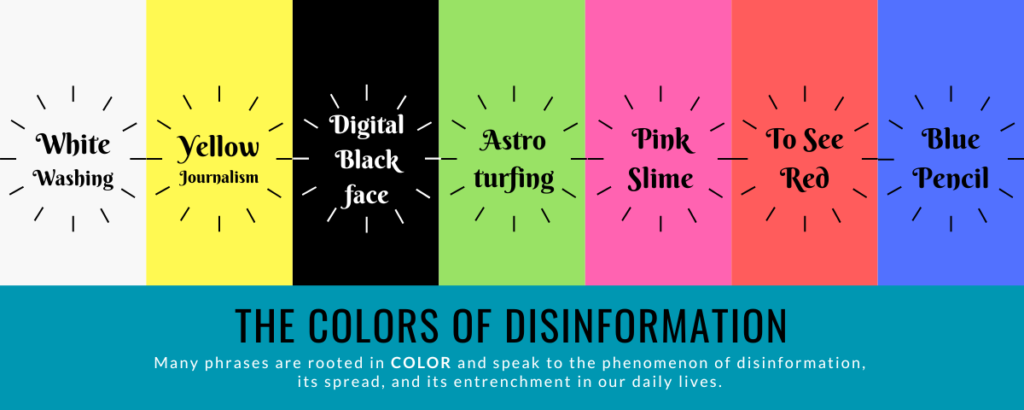 If we think about phrases, cliches, or old adages in the English language, many of them are rooted in a color, or the lack thereof. Many of these phrases also speak to the phenomenon of disinformation, its spread, and its entrenchment in our daily lives. This short essay will introduce several such colorful phrases.
Digital blackface. There are two ways to examine digital blackface; if non people of color are using memes or videos or animated gifts, etc., that feature people of color, that can be considered digital blackface. More recent discussions feature people who are catfishing others by saying that they are a member of a minoritized group. For example, someone on X (formerly known as Twitter) has an avatar of a Black person, or a member of the Latine community, and speaks in a stereotypical fashion, or enacts stereotypes in an attempt to mislead or deceive others who may be following that account. This is malinformation designed to perpetuate racism. Malinformation is an extreme form of disinformation that can actually physically, mentally, or criminally harm its victims (Cooke, 2021).
Blue pencil. To blue pencil something is to censor it or limit the information being shared. We are seeing an uptick of blue pencil-ing in the most recent rash of book challenges and bans. This is disinformation designed to control or shift narratives, and stifle conversation.
—information is cheap and knowledge is slow and expensive—
To see red. The study of information behavior tells us that we engage in affective information processing, which means we have emotional responses to information (Nah & Bilal, 2007). If I see red after receiving information it means that I am angry or distressed in some way; as a result, I am more likely to dismiss or avoid this information, even if it is true (Cooke, 2017, 2018). This is information avoidance (Narayan, et al., 2011), which enables the spread and longevity of disinformation. This can also be thought of as information blunting, which is the avoidance of threatening information that would cause someone to see red. (Case, et al. 2005).  
Astroturfing (the color green) can be a deceptive practice of presenting an orchestrated marketing or public relations campaign under the guise of presenting unsolicited comments from members of the public. A play on crowdsourcing, or the wisdom of crowds, information from trusted sources can be very valuable. However, if said information is manufactured and designed to persuade or mislead, it is disinformation.
Pink slime is derived from the meat industry and refers to filler materials used to enhance meat products. As it relates to information and journalism, it's a phrase used to remind information consumers that they need to do due diligence in order to distinguish between quality and lesser quality information; true or false information; or information, disinformation, or malinformation. There are so many people creating content, and just because this information is widely distributed and freely available does not mean that it is coming from journalists or other professionals, or that the content is worthy of belief.
Yellow journalism is propaganda that's associated with/attributed to people and communities from the Asian diaspora. A significant historical example of Yellow journalism is the Japanese incarceration camps; pictures were issued by the government that depicted smiling and seemingly happy Japanese people, as if they were not bothered and not being held against their will (Alinder, 2005). 
Whitewashing indicates that something is being covered up, glossed over, or minimized. It is also a form of omission or telling "little white lies.". A whitewashed issue is made less important. For example, the State of Florida is removing and altering events related to African American and LGBTQIA+ historical events from K-12 textbooks; this is the whitewashing of history.
Dr. Joan Donovan says that information is cheap and knowledge is slow and expensive (Donovan, 2020). Our patrons and students are overwhelmed with information; we, as information professionals, are overwhelmed with information. We are all inundated with false and malicious information all day, every day. Of course there is reputable and useful information in the mix, but the sheer volume we encounter can complicate what information is absorbed, what information is rejected, and what information is avoided. During the day we receive information from all sides, all avenues, all directions, and a lot of that information is fast and cheap, readily available, of questionable quality, and from unknown sources. 
Donovan continues by saying that knowledge is slow and expensive; knowledge represents information that we have to stop and evaluate/fact check, articles that we need to read and verify before sharing them. Knowledge is expensive because we're not always used to or prepared to stop our automatic information flow. Slowing down our information consumption means that we get less instant gratification, we get fewer likes on social media, and we have to be ready, willing, and able to receive information from outside our filter bubbles and echo chambers.
This is where information professionals can help; we can help people create knowledge. It's one of the many value-added solutions that we bring to this ongoing and ever changing discussion of misinformation, disinformation, and malinformation.
Dr. Stacey Patton, a media Literacy professor at Morgan State University (MD), says she believes that "instilling wonder and curiosity in students is a deeply political act of resistance." (Patton, 2023). The work we do as information professionals should be considered an act of resistance in terms of the battle against misinformation, disinformation, and malinformation. Because if we do not, lies become dominant, and reality is distorted.
[More colorful examples will appear in the December 2023 issue of
The
Journal of Media Literacy
]
References
Alinder, J. (2005). Displaced smiles: Photography and the incarceration of Japanese Americans during World War II. Prospects, 30, 519-537.
Case, D. O., Andrews, J. E., Johnson, J. D., & Allard, S. L. (2005). Avoiding versus seeking: the relationship of information seeking to avoidance, blunting, coping, dissonance, and related concepts. Journal of the Medical Library Association, 93(3), 353.
Cooke, N. A. (2021). Tell Me Sweet Little Lies: Racism as a Form of Persistent Malinformation. PIL Provocation Series. Volume 1, Number 4. Project Information Literacy. https://projectinfolit.org/pubs/provocation-series/essays/tell-me-sweet-little-lies.html.
Cooke, N. A. (2018). Fake news and alternative facts: Information literacy in a post-truth era. American Library Association.
Cooke, N. A. (2017). Posttruth, truthiness, and alternative facts: Information behavior and critical information consumption for a new age. The library quarterly, 87(3), 211-221.
Donovan, J. (2020, December 16). The true costs of misinformation – Joan Donovan. Open Transcripts. http://opentranscripts.org/transcript/true-costs-of-misinformation/ 
Nahl, D., & Bilal, D. (Eds.). (2007). Information and emotion: The emergent affective paradigm in information behavior research and theory. Information Today, Inc..
Narayan, B., Case, D. O., & Edwards, S. L. (2011). The role of information avoidance in everyday‐life information behaviors. Proceedings of the American Society for Information Science and Technology, 48(1), 1-9.
Patton, S. [@DrStaceyPatton]. (2023, March 14). As an educator, I believe that instilling wonder and curiosity in students is a deeply political act of resistance. [Tweet or Instagram Post]. X. https://twitter.com/DrStaceyPatton/status/1635627711984025601?s=20 
Cite this article in APA as: Cooke, N. A. The colors of disinformation. (2023, September 12). Information Matters, Vol. 3, Issue 9. https://informationmatters.org/2023/09/the-colors-of-disinformation/