Brief Introduction to Compass of Academic Library Modernization (CALM) Report
Brief Introduction to Compass of Academic Library Modernization (CALM) Report
Jianlong Chen and Yan Shao
What will academic libraries be like in the next 5 years? Facing the opportunities and challenges brought by the changes in higher education and the rapid development of information technology, how should academic libraries find their own position and take up their mission of the times? How to achieve academic library modernization? What practical issues need to be urgently broken through and what theoretical issues need to be researched, and what are the key elements and relationships that need to be dealt with?
—What will academic libraries be like in the next 5 years?—
These issues are related to the overall development of academic libraries, and they are important guidelines for academic libraries to make plans and innovate services. In this regard, the Steering Committee for Academic Library of China (SCAL) and Peking University Library (PKU Library) jointly conducted a study. The study brings together the collective wisdom and valuable experience of 34 senior experts in the fields of academic libraries, library and information science and archives management science, and summarizes their main views and recommendations on academic library modernization through three rounds of Delphi survey. On December 24, 2021, the 40th anniversary of the establishment of the SCAL, the SCAL and the PKU Library released the Compass of Academic Library Modernization Report (hereinafter the "CALM Report") officially.
The CALM Report focuses on six frontier topics: core concepts, primary objectives, practical issues, theoretical issues, key elements, and ecological relationships of academic library modernization development in 5 years, and is specified through 27 aspects and 181 options. In terms of concentration, the report divides expert opinions into three categories: highly concentrated (>85%), moderately concentrated (50% – 85%), and less concentrated (<50%). Based on the highly-concentrated expert opinions which includes 27 aspects and 75 options, the report summarizes the overall trends of academic library modernization and outlines the New Development Paradigms of Academic Library Modernization (see Figure 1 below).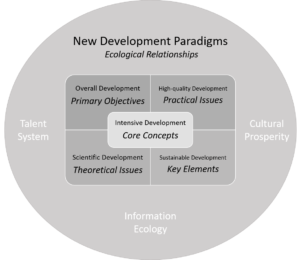 The development trends of academic library modernization are primarily reflected as follows:
Academic library modernization is a key proposition in the overall strategy for the great rejuvenation of the Chinese nation and the global changes of a scale unseen in a century. It shall realize the construction and optimization of a new development paradigms through intensive, overall, high-quality, scientific, and sustainable development while unlocking the unique value of academic libraries in the new era.
The intensive development of academic libraries requires a clearer establishment and consolidation of the core concept. Advanced core concepts should include the implementation of new national development philosophy, high education development concept, and "Double First Class" construction concept while reflecting the professional and historical characteristics of academic library. In the coming development period, the core concept will be formulated through the association of basic notions such as innovation, collaboration, services, users, resources, librarians, universities, and their operational positioning.

The overall development of academic libraries must formulate long-term objectives with clear milestones in a scientific manner. Upper-level development objectives should be closely integrated with the objectives of national modernization, high-quality university development, and the mission of the library itself. Over the next 5 years, academic libraries shall achieve greater results in areas such as librarian team construction, user information literacy education, integration of print and digital literature resources, data resource value-added services, next-gen information technology applications, disciplinary knowledge service system construction, library modernization theory construction, performance evaluation system optimization, and intramural/extramural collaboration.
The high-quality development of academic libraries requires constant breakthroughs on chronic problems and issues of the time. Over the next 5 years, leadership and execution in team building, synergy and contribution in service innovation, adequacy and continuity in funds, specialization and digitization in collection development, openness and security in technological applications, institution and mechanism in governance system construction, sharing and interactivity in space design, and other issues will be greatly improved. The common understanding of modern propositions such as libraries serving a key role in university talent cultivation systems and representing a key indicator of national cultural prosperity will have significantly improved.
The scientific development of academic libraries requires the guidance of more powerful modernization theories. The next 5 years will see the development of multidisciplinary collaborative research in library modernization, with in-depth research carried out in terms of the history, basic theory, methodology, and the application of results.
The sustainable development of academic libraries must further adhere to the fundamental and strategic position of several key elements, including librarians, resources, users, services, and culture. Under the guidance of advanced concepts and scientific theories, positions shall be further consolidated and breakthroughs shall be made in the pursuit of corresponding objectives.
The construction of new academic library development paradigms must further coordinate and straighten out the multi-faceted relationship based on primary responsibilities and operations, including internal rapport and external relationships, the relationship between internal library conditions and objective requirements, and the relationship between tradition and modernity. By properly taking advantage of the modernization process, libraries can create a better future.
The CALM Report aims to summarize historical experience, look toward future development trends, and outline trends for academic libraries across the country that are rooted in domestic issues, integrated with an international perspective, up-to-date, and forward-looking. It provides directional and referential guidance for academic libraries in regards to talent cultivation, development of user relationships, transformation of information resources, optimization of service innovation, research development theory, guarantees of governance capacities, and clarification of operational ecology, and serves as a "compass" for academic libraries in the new age.
The full text of the CALM Report
English Edition
Chen, J., Wang, X., Dang, Y., Chen, D., Wang, B., Shao, Y., Zhang, H., Zhang, L., Li, F. (2021). Compass of Academic Library Modernization (CALM) Report. http://www.scal.edu.cn/zxdt/202206130254
Chinese Edition
陈建龙,邵燕,张慧丽,张璐,李峰,王新才,党跃武,陈大庆,王波.大学图书馆现代化指南针报告[J].大学图书馆学报, 2022,40(01):22-33. DOI:10.16603/j.issn1002-1027.2022.01.005.
Cite this article in APA as: Chen, J. & Shao, Y. (2022, September 28). Brief introduction to compass of academic library modernization (CALM) report. Information Matters, Vol. 2, Issue 9. https://informationmatters.org/2022/09/brief-introduction-to-compass-of-academic-library-modernization-calm-report/