Information Curation in Serious Leisure: How Passion Generates Purposeful Information Activities
Information Curation in Serious Leisure: How Passion Generates Purposeful Information Activities
Yazdan Mansourian
Since 2017, I have been researching Human Information Behavior (HIB) in Serious Leisure. HIB is a research area in information science that investigates how people interact with information to fulfill their daily tasks. Of course, we deal with many different tasks every day, and on the other hand, information sources are hugely diverse. Therefore, every day we perform numerous information activities such as information seeking, searching, browsing, sharing, and organizing in various contexts such as work, family, finance, food, etc.
Serious leisure is a term coined by Dr. Robert Stebbins in 1982 (Stebbins, 1982, 2007), and includes hobbies, voluntary activities, and amateurism, which are sufficiently challenging but adequately rewarding. For instance, bird watching, beekeeping, knitting, wood carving, and bush walking are a few examples of many popular hobbies. As you can see, it is serious because they engage with their chosen activity for the long term, learn new skills, and it can potentially form a new identity for them. Besides, they can eventually turn their hobby or voluntary activity into a career if they wish. For example, bonsai growing is a hobby for thousands of people, but some choose it as their career. Therefore, despite casual leisure like watching TV or walking, which is usually short term and intrinsically pleasurable, serious leisure requires perseverance, passion, and commitment.
—Serious leisure requires perseverance, passion, and commitment—
Scholars from different disciplines study serious leisure from different perspectives. For example, psychologists are interested in the personal benefits of serious leisure, like how involvement in indoor and outdoor hobbies can help people to find new passion and purpose in life and how it can enhance their cognitive and emotional wellbeing. At the same time, sociologists explore its social benefits and explain how engagement in voluntary activities in charities creates social ties, improves social inclusion, and ultimately can improve social wellbeing.
I explore this area from the information science perspective, and I am fascinated by the richness and diversity of embedded information activities in this context. My research shows serious leisure is an information-intensive context, and serious leisure participants interact with information resources via diverse platforms and use various types of information for different purposes. However, they have exceptional patterns of information practice which makes their information behavior unique in one way or another.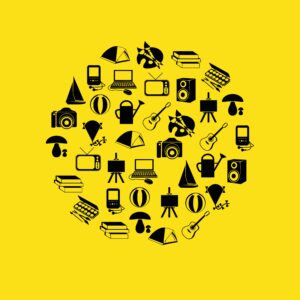 For example, they eagerly search multiple sources and passionately share the collected information within their communities of interest. Moreover, they develop exclusive methods to sort the collected information and keep it for future use. Furthermore, they produce complete details on their chosen activities which are not easily accessible in conventional information sources.
Therefore, I believe the standard terminology in HIB scholarship is insufficient to describe their information activities. We need a new vocabulary to capture their unique information behavior. Nonetheless, it seems the concept of "information curation" is one of the existing terms that we can use for this purpose. Whittaker (2011, p. 1) defines information curation as: "where familiar information is used as a personal resource that we keep, manage, and (sometimes repeatedly) exploit."
In another definition, Jacobson (2012) highlights some distinctive features of information curation, such as creativity and community, and defines it as a holistic approach that combines information seeking, encountering/serendipity, use, and sharing to practice originality, creativity and identity construction.
My research shows that serious leisure participants are passionate about their hobbies or voluntary activity. As a result, they are usually so eager to locate related information and develop exclusive methods to keep, organize, and share information related to their chosen practice. Therefore, they typically move beyond conventional information activities. As a result, they are actively engaged in information curation and creation, making their serious leisure even more joyful, purposeful, and meaningful.
References
Jacobson, J. (2012). Information curation. Proceedings of the American Society for Information Science and Technology, 49(1), 1–2. http://dx.doi.org/10.1002/meet.14504901269
Stebbins, R. A. (1982). Serious leisure: A conceptual statement. The Pacific Sociological Review, 25(2), 251-272. https://doi.org/10.2307/1388726
Stebbins, R. A. (2007). Serious Leisure: A Perspective for Our Time. New Brunswick, NJ: Transaction.
Whittaker. S. (2011). Personal information management: From consumption to curation, In B. Cronin (Ed.) Annual Review of Information Science and Technology, 45, 1-42, Wiley, Medford, NJ. DOI: https://doi.org/10.1002/aris.2011.1440450108
Cite this article in APA as: Mansourian, Y. (2022, May 4). Information curation in serious leisure: How passion generates purposeful information activities. Information Matters, Vol. 2, Issue 5. https://informationmatters.org/2022/05/information-curation-in-serious-leisure-how-passion-generates-purposeful-information-activities/