A Video Series that REALLY Teaches How to Write (While Honoring All Voices)
A Video Series that REALLY Teaches How to Write
(While Honoring All Voices)
Jenna Hartel
At my YouTube channel, INFIDEOS, I recently published a video series, Writing-Up Research as Thematic Narrative. It contains 14 short episodes on authoring qualitative or ethnographic research. The series addresses the complexity of social scientific narratives, which are multi-perspective and multivocal. While all the examples of writing in the collection are drawn from Information Science, these fundamental techniques easily transfer to other disciplines.
The featured approach is based upon a strategy outlined in the book Writing Ethnographic Fieldnotes by Robert Emerson, Rachel Fretz, and Linda Shaw (1995). I have elaborated and creatively illustrated their ideas, making them more accessible to students across the social sciences. The 14 episodes are cumulative and need to be watched in order. There are also interactive worksheets and other learning resources, available as links in the description boxes below the videos (or at the end of this post, if you are curious). The series also features personal accounts from two of my students, Hailey Siracky and Hugh Samson, who provide inspiring firsthand perspectives on applying these ideas in their own thesis. Writing-Up Research as Thematic Narrative is ideal for doctoral students and early career scholars, working in the qualitative or ethnographic neighborhood, who are not yet well-versed in writing and publishing. Anyone who edits social scientific writing would also benefit by watching.
—The series addresses the complexity of social scientific narratives, which are multi-perspective and multivocal.—
Instruction of this kind is sorely needed in Information Science. Unfortunately, writing-up research is not systematically treated in our doctoral programs. Given the smallish course catalogues at the doctoral level, there are rarely dedicated writing classes. Nor are mentoring and supervision reliable means to help students with writing-up. My own brilliant and well-intentioned advisors noted shortcomings on my dissertation drafts but these comments were wide-ranging, ad hoc, and non-cumulative; they did not explain how results should ideally be communicated. After completing my dissertation I was left with many outstanding questions, such as, "Where, how, and to what degree do I cast the theories of Information Science upon the accounts of my informants?"
Hence, the series has roots in my own challenges of writing-up an ethnographic dissertation (Hartel, 2007). Later in my academic career, I discovered the handbook Writing Ethnographic Fieldnotes by Emerson, Fretz and Shaw. The penultimate chapter of the book, "Writing an Ethnography," introduced a writing system that honored all the voices within a study and assembled them into an engaging story, called a thematic narrative. For me, this chapter was a eureka! moment that answered many questions. Over the years, I have taught this same writing system to hundreds of students in my course at the Faculty of Information, Information Ethnography. I have also offered this technique for writing at an ASIS&T pre-conference workshop, which was well-received. In 2020, I described the thematic narrative in a guest editorial for Library and Information Science Research (Hartel, 2020), which is available to anyone who prefers learning through print rather than video. 
Among the 14 videos that constitute the series, I have a favorite, Episode 7: The Analytic Point solves a crucial problem by explaining how to articulate discoveries to be striking and memorable; correctly attributed to the author; and importantly, cited.  The answer lies in the thematic narratives' analytic point, a succinct and bold declaration that I illustrate in chef Emeril Lagasse, who presents his recipes with a flamboyant BAM!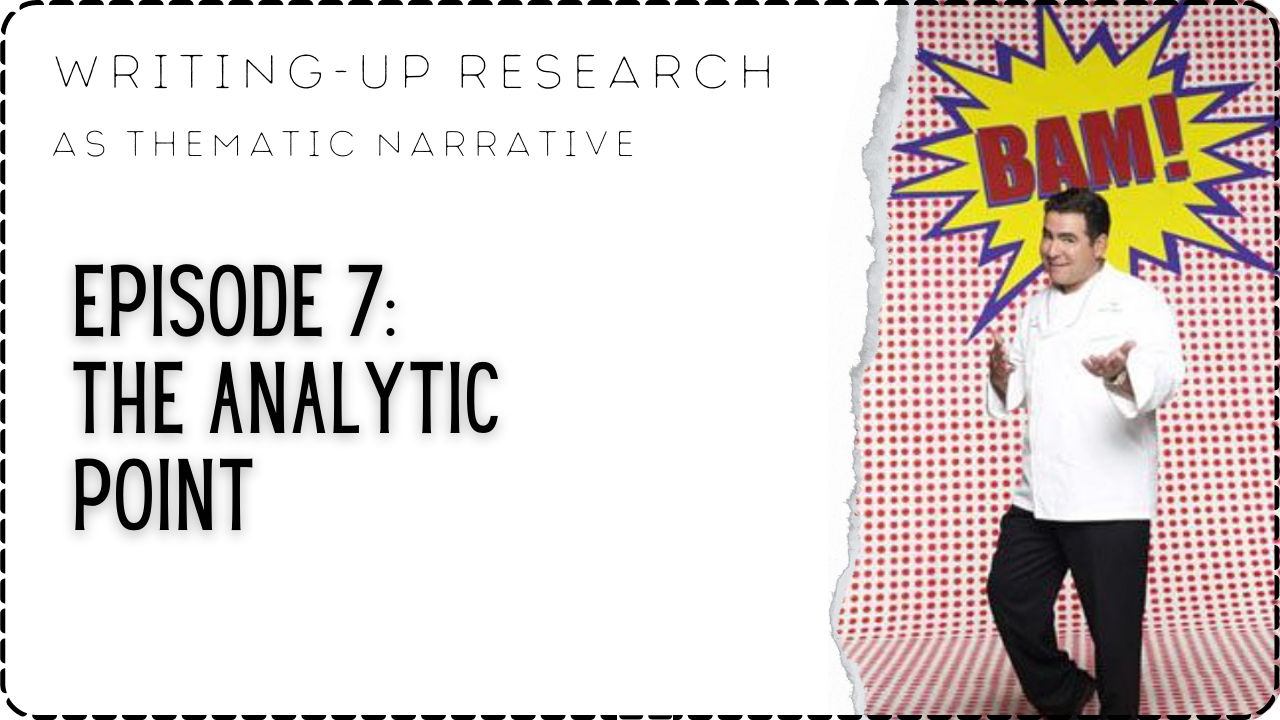 Here is an episode-by-episode tour of the series.
Episode 1 is an introduction that points to the challenging multivocality of social scientific writing and posits a solution: the thematic narrative.
Episode 2 steps back to serve as a check point for viewers to determine if they are ready to write-up their research.
Episode 3 returns to the thematic narrative and highlights how it differs from a conventional essay and social scientific report.    
Episode 4 analyzes an exemplar thematic narrative, "Notes on Fridge Surfaces," by Laurel Swan and Alex Taylor (2005).
Episode 5 descends into the thematic narrative to explain how it is written at the level of paragraphs and sentences, using a rhetorical structure, the excerpt-commentary unit.  
Episode 6 presents the anchoring element of the excerpt-commentary unit—the excerpt.
Episode 7 introduces the opening statement or salvo of the excerpt-commentary unit—the analytic point. (This is my favorite episode and features chef Emeril Lagasse!)
Episode 8 describes a third and supporting player in the excerpt-commentary unit—orienting information.
Episode 9 teaches analytic commentary, the fourth and final piece of the excerpt-commentary unit, which makes a bridge to the scholarly literature.  
Episode 10 is an opportunity for viewers to test their understanding of the excerpt-commentary unit through two quiz-like worksheets.
Episode 11 begins to summarize the series, and provides the strongest, overall, methodological statements on the thematic narrative as a writing strategy.
Episode 12 concludes by describing additional elements of the complete thematic narrative, such as the introduction, literature review, research setting, and more. This episode also surveys the free documentary resources available to viewers.
Episode 13 is a personal statement from my former student, Hailey Siracky (2013) who compares the thematic narrative to creative writing.
Episode 14 is a personal statement from my former student, Hugh Samson, who recounts his own challenges with the thematic narrative, and his ultimate breakthrough.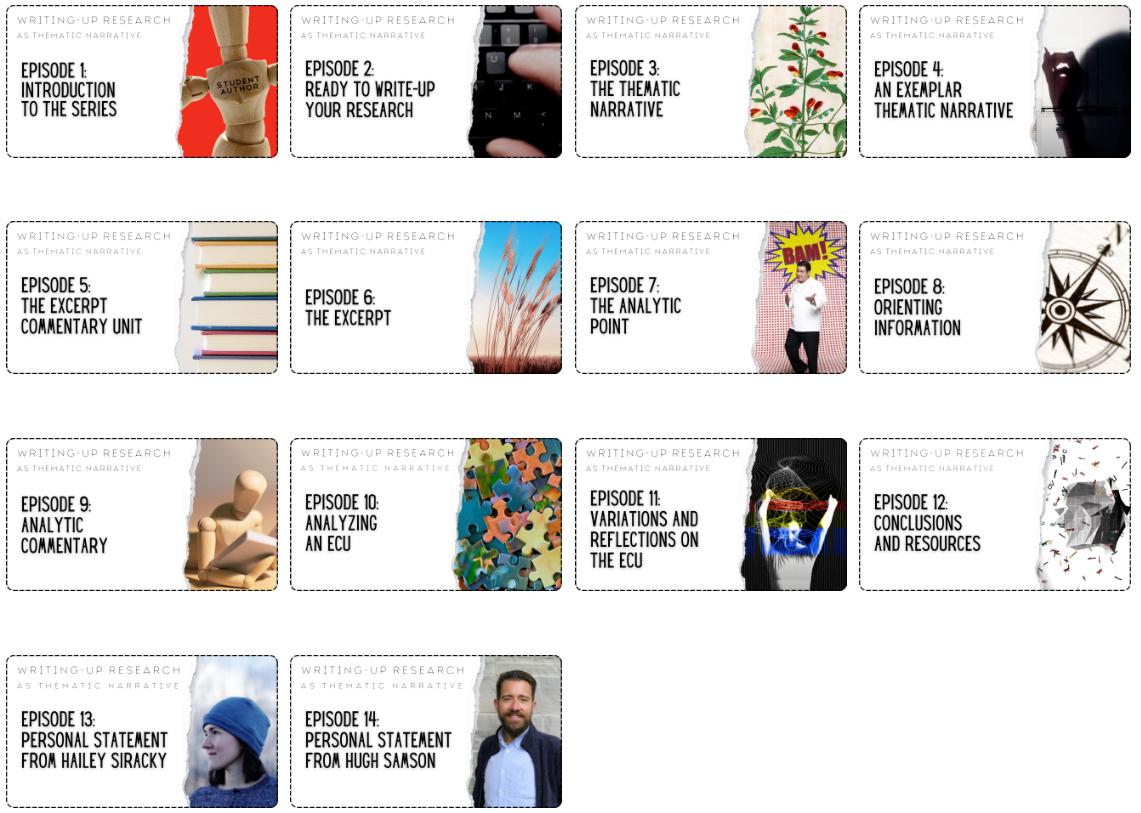 Writing-Up Qualitative Research as Thematic Narrative may be the most detailed instructional resource on writing available in Information Science today. It can be viewed in one sitting (for a total of 40 minutes) or watched incrementally, thereby supporting diverse learning speeds and styles. As mentioned, there are discussion guides and worksheets to practice the ideas along the way, and inspiring personal stories, too. I would be happy to participate, virtually, in any class that uses the series. If you are interested, please contact me at [email protected]. Happy holidays and Happy Writing!
References
Emerson, R. M., Fretz, R. I., & Shaw, L. L. (1995). Writing ethnographic fieldnotes. University of Chicago Press.
Hartel, J. (2020). Writing-up ethnographic research as a thematic narrative: The excerpt-commentary-unit. Library & Information Science Research, 42(3), 101037–.
Hartel, J. K. (2007). Information activities, resources, and spaces in the hobby of gourmet cooking. UMI Dissertation Services.
Samson, H. (2021). Contemplating Infrastructure: An Ethnographic Study of the University of Toronto Faculty of Information Inforum's iRelax Mindfulness Resource Area. ProQuest Dissertations Publishing.
Siracky, H. (2013). Spiritual Journal Keeping: An Ethnographic Study of Content, Materials, Practice, and Structure. ProQuest Dissertations Publishing.
Links to Documentary Resources of the Series (Discussion Guides and Worksheets)
These learning aids can also be found in the Description box below their relevant video.
Episode 7 
Episode 8 
Episode 10 (Easy) 
Episode 10 (Hard) 
Episode 11 
Review of Concepts 
Template for Writing an ECU 
Cite this article in APA as: Hartel, J. (2022, December 5). A video series that really teaches how to write (while honoring all voices). Information Matters, Vol. 2, Issue 12. https://informationmatters.org/2022/12/a-video-series-that-really-teaches-how-to-write-while-honoring-all-voices/