Rediscovering the "Third Place"
Rediscovering the "Third Place"
Chirag Shah, University of Washington
Do you have a favorite "third place" to hang out? A place that's other than your home and work? Perhaps it's that corner coffeeshop or a beauty salon. Or may be it's that drive or ride to or from work. It's some place where you are separated from work and home, and could find a little cocoon of solitude or comfort. This place can warm you up or cool you down, it could be a place to get away from others or connect with them, but more importantly, it is a place that you can identify with.
Notice anything different with these places in the recent year or two? Well, in case you were living under a rock in this time, you know what I'm talking about—the pandemic! A lot has changed during this time—our work, our life at home, where we go, who and how we interact with—basically, a lot of elements of our life that define us. While we have been focused on our health, work, education, etc., we haven't thought enough about that third place.
—Do you have a favorite "third place" to hang out?—
You see, that third place is not just a physical place, but it's a place in our mind as well. Take for instance, that commute that many of us have left behind during this time as we were working from home. That commute used to provide us the "third place." Often, people would use that morning commute to work to start leaving their home and start connecting with the world. Sometimes it meant listening to a podcast, reading the headlines, or simply reviewing or thinking about the day ahead. Then, on the commute back home, it was a time to de-compress and start unwinding. Perhaps listen to some favorite tunes or call a family member. With those kinds of commutes gone, the world and ourselves are expecting us to simply push a button and be ready to connect to or disconnect from work. Well, that's not how we have been trained for generations. While we are saving on that commute time (and our carbon footprint), we are losing on our mental well-being.
There have been some efforts to counteract this new reality. For example, Microsoft rolled out virtual commute feature in some of their products. This feature allows you to carve out that time for commuting, even without actual commute. Essentially, it forces you to take that time off to engage with and disengage from your work as before, and just as importantly, lets others know that you are not available during those times.
Of course, you can do all that without the help of any specialized tool. But it requires some discipline. That's because most of us have taken up too much work in this time, optimizing the extra time we have gained by not commuting, not going out much to meet people, or participate in various events. This extra work is hard to shred. Leaving a part of it to make room for a "completely unnecessary" thing like virtual commute seems counterproductive. Well, the first thing we need to accept is that this is not unnecessary. In fact, for our mental and physical well-being, it is very much necessary. Second, we need to start scheduling that time in third place—whether you call it virtual commute, downtime, or "me time." Add that block on your calendar or have people around you know somehow that you are not available during those times. As a bonus, I would even suggest carving out time for lunch in the middle of the day, even if you don't take long lunch breaks. Perhaps you can use that time to go for a walk.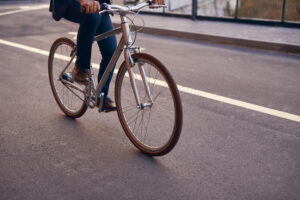 I have been putting several of these ideas into practice for me because I'm a workaholic and any "free" moment I get, I know I will fill it up with work. Therefore, I put a lot of these "me time" on my schedule. Twice a week, I bike to University of Washington campus, which is about 11 miles (18 km) far. It takes me about an hour one-way, and I block that hour on my calendar. I can't be available during that time to anyone. I use that time to not only commute to the campus, but also get some exercise, and listen to music, podcast, or audiobook. That's my "me time" and I get four hours of it every week. I also do lunch date with my wife once a week, which is also on my calendar. Similarly, I put time for doing various activities with my kids. I know this seems like micromanaging or being obsessive with scheduling, but if you're like me, you'd understand why this is necessary. If I don't put these things on my calendar and block off those times, either someone will schedule a meeting with me or I will end up using that time to just work more. If it is important thing to do, I don't just wing it; I take deliberate action and make room for it on my calendar.
So, what are you doing to not be super-busy with your work and rediscover the value of that third place?
Cite this article in APA as: Shah, C. (2022, May 2). Rediscovering the "third place." Information Matters, Vol. 2, Issue 5. https://informationmatters.org/2022/04/rediscovering-the-third-place/